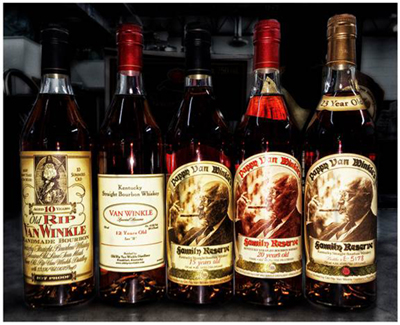 The Asheville ABC Board may receive a very small allocation of Pappy Van Winkle each year, typically in late October or early November.  When we receive our allocation, we typically split the number of bottles we receive between Retail Customers and our Liquor by the Drink retailers.  Please fill out the information below to be entered into our Pappy Van Winkle lottery for Retail Customers.  Our stores will not be compiling lists or taking names.  You must register here to be contacted.  After our distribution, the sign-up list will be deleted. Beginning January 1st of the following year you may re-submit your information for the next allotment.
Rules:
Customer must be a Local surrounding area resident.  The person signed up must have a Photo ID that matches the information entered when picking up their bottle.
Customer is only allowed to fill out one entry per household.  If a customer enters more than once from the same address or email address, ALL entries will be deleted.  If customer picking up bottle doesn't have a Photo ID with a matching name and address of the information entered, they forfeit their opportunity to purchase.
Customer must be 21 years of age
Lucky lottery winners chosen will be emailed with information about location of pick up and which Pappy bottle they are allocated.  The person chosen must email back within 2 days to let us know they received the email and that they are still interested in purchasing the bottle. If we receive no response after two days, you forfeit your bottle and another lucky winner will be emailed.
*Indicates required fields